Nevada Veterans Alliance is now producing The "Voice of the Vet" Show which can be seen and heard on this website and our YouTube Channel.  The "Voice of the Vet" Show interviews Veterans who tell their story about serving in the United States Armed Forces.  These interviews showcase the Veteran in an unscripted setting where you will hear what happened and how it happened, directly from the Veteran's personal eyewitness account.  Plus it helps with the preservation of history… One Veteran, One Story at a time.
This website also acts as a resource portal to other outstanding organizations that provide services to help veterans with problems they may be faced with such as Healthcare, Mental Health, filing for Compensation and Pension, Housing, Employment, Business Development and much more. Our goal is to work with other organizations of ACTION & RESULTS that know how to help our Veterans and are proven at making things happen.
The Nevada Veterans Alliance is formed!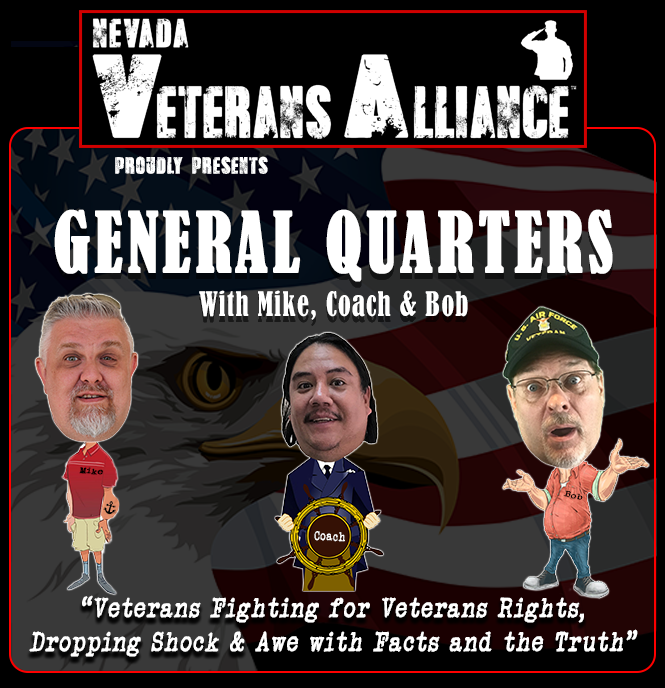 The Nevada Veterans Alliance has developed a dedicated TEAM to reach over 200,000+ Nevada Veterans and over 20,000 businesses that are Veteran owned in the State of Nevada. (Source:  U.S. Small Business Administration, Office of Advocacy | U.S. Department of Veteran Affairs for Nevada)
The Alliance consists of Veterans and VSO's who are Super Veteran Champions, fighting for the rights and benefits of Veterans and their families.  Voice of the Vet is Proud to have teamed up with the Nevada Veterans Alliance to form a solid foundation of Actions with Results Veterans to help make a positive difference in the lives of Veterans and their families in the State of Nevada.
The Nevada Veterans Alliance is producing its own show called "General Quarters" that tackles the tough and hard hitting questions related to Veterans Pensions and Compensation with the VA.  It is Veterans fighting for Veterans rights, dropping shock & awe with facts and the truth!