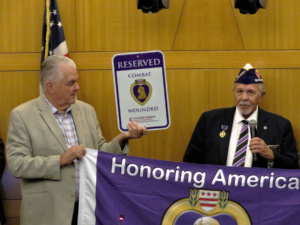 Purple Heart Day on August 7 is an observance that commemorates the creation of the Purple Heart Medal in 1782.
The Military Order of the Purple Heart, Las Vegas Chapter 711 with Commander Len Yelinik accepted a Proclamation from the Clark County Commissioners proclaiming August 7, 2018, as Military Order of the Purple Heart Day in Clark County. Commander Yelinik then presented the Commissioners with an official Military Order of the Purple Heart Flag and a parking space sign designating a particular parking space for Combat Wounded Veterans that have received the Purple Heart.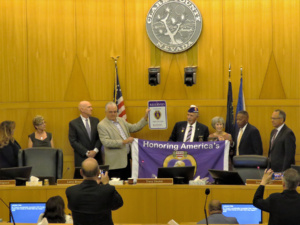 The Purple Heart was first created on August 7, 1782, by the commander-in-chief of the Continental Army, General George Washington. Then known as the Badge of Military Merit, it was awarded to three Revolutionary soldiers in 1783.
The Purple Heart Foundation, the fundraising arm of the Military Order of the Purple Heart, recommends donating time and money to the foundation or to other organizations working with Purple Heart recipients and their families on this day. They also encourage people to listen to soldiers and veterans and learn more about their life stories and their military service.