CURRENT SPONSORS
WHO WE ARE & WHAT WE DO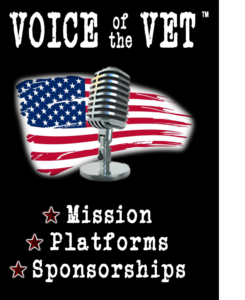 WHO WE ARE:
Voice of the Vet is a Veteran Operated Business that is totally dedicated to the enhancement of the life and lifestyle of Veterans and their families. This is accomplished through our efforts and other trusted sources. The direction of these sources may be educational, Vets helping Vets or other programs that are beneficial with positive results.
The Founder of Voice of the Vet is an Air Force Veteran who served during the Vietnam Era. His dedication to Veterans and the Military is constant and unwavering. Everything that Voice of the Vet produces is with the best interest of Veterans and the Military at heart. We approach everything as if we are doing it for our family, with Honor, Dignity and Respect. We utilize the family approach, because we are family… the Military family.
OUR MISSION:
"To provide Veterans with a platform where their voice will be heard through print and digital media, as well as providing positive directions with results in those areas where they may need assistance."
OUR PLATFORMS:
1. Voice of the Vet Internet Show
2. Veteran Interviews (Video, Audio or Article)
3. Quarterly Printed and Digital "Voice of the Vet" Magazine
4. Valuable Veteran Resources
5. To work with other Veteran Organizations to aid in their efforts to help Veterans
WHY WE DO IT:
Over the years, and now more than ever, many of us have witnessed the struggle of our Veterans to be helped and heard. What drives us is knowing that by joining forces with people like yourself, we are able to honor and support the brave men and women who have so selflessly fought for our freedom.

The "Voice of the Vet" Show
The "Voice of the Vet" Show will be recorded at numerous locations throughout the Las Vegas Valley. Interest is also growing to bring the "Voice of the Vet" Show to other states.
The "Voice of the Vet" Show is a "talk show" style format hosted by Air Force Veteran Bob Maxwell and Las Vegas Entertainer Marcel Forestieri.
"Voice of the Vet" Show Format:
Opening – Host gives brief overview of today's show segments
Veteran Topic of the Day – Editorial by Host

Special Guest Interview

Veteran Video of the Day (edited version for show, but full version on website and YouTube)
Behind the Scenes Interview (of our location)
Shout Outs & Salutes – Recognition for positive acts by Veteran(s), Companies, Organizations, First Responders, etc.

Wrap Up

WHAT:
We are participating in the Library of Congress Veteran History Project and all interviews produced by us will be cataloged and preserved in the Library of Congress with their Veteran History Project. The Veteran being interviewed has the opportunity to share his or her experience(s) while serving in the United States Armed Forces and can choose from one of the following formats:
On-Camera Interview

Audio Only Interview

Written Article
WHO:
Any Veteran from any Branch of Service, National Guard or Reserves

Any Surviving Relative(s)
WHY:
To preserve the individual's Veteran Story as part of World History
"If we don't tell our story, then nobody will know what transpired."
                                                                      – Donald Griffith, Korean War Veteran
SPONSORSHIPS LEVELS

As the Headlining Sponsor of "Voice of the Vet", you and your brand will align with us in the mission of supporting our Veterans.
"Chief of Staff"
This is our Highest Decorated Sponsor. Your Company Logo, with top ranking, on all "Voice of the Vet" productions and materials.
"Voice of the Vet" Internet Show "Brought to you by"… (Your Company)
Video Interviews "Brought to you by"… (Your Company)
Video about Your Company and employees that are Veterans
"Voice of the Vet" Podcasts "Brought to you by"… (Your Company)
Your Name/Logo on Our Vertical Banners at our Events
Your Name/Logo on Our Wall Backdrop
Your Name/Logo on Our Advertisements
Your Name/Logo on Our Website Header
Your Name/Logo Prominently displayed throughout our website
Your Name/Logo Prominently displayed on our Facebook page
Links from our website to your website
Verbal shout out by host at top of the Voice of the Vet Show and various points throughout
Pop-Up Ad with your Company Logo
Listed on "Voice of the Vet" website as our "Chief of Staff" Sponsor (Presenting Sponsor)
Facebook, Instagram, YouTube and Twitter
We welcome your input for additional promotions
Rate:  To Be Discussed
_____________________
"Commander"
This is our 2nd Highest Decorated Sponsor.  Your Company Logo on all "Voice of the Vet" productions and materials. Along with:
Video about Your Company and employees that are Veterans
Your Name/Logo on Our Vertical Banners at Events
Your Name/Logo on Our Wall Backdrop
Your Name/Logo on Our Advertisements
Your Name/Logo Prominently displayed throughout our website
Your Name/Logo Prominently displayed on our Facebook page
Links from our website to your website
Verbal shout out by host at top of a show segment
Pop-Up Ad with your Company Logo
Listed on "Voice of the Vet" website under Sponsor
Facebook, Instagram, YouTube and Twitter Sponsor visibility 
We welcome your input for additional promotions
Rate:  To Be Discussed
_____________________
"Officer"
Your Company Logo on the following:
Your Name/Logo on Our Vertical Banners at Events
Your Name/Logo on Our Advertisements
Prominently displayed on the Sponsors Page of our website
Links from our website to your website
Verbal shout out by host at top of the show
Pop-Up Ad with your Company Logo

Listed on "Voice of the Vet" website under Sponsor
Rate: $7,500.00 Per Year
_____________________
"NCO"
Your Company Logo on the following:
Your Name/Logo on Our Vertical Banners at Events
Displayed on the Sponsors Page of our website
Links from our website to your website
Verbal shout out by host at top of the show
Pop-Up Ad with your Company Logo
Listed on "Voice of the Vet" website under Segment Sponsor
Rate: $5,500.00 Per Year
_____________________